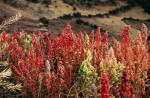 Did you realize that 2013 was named the International Year of Quinoa by the United Nations? Quinoa, a native crop of the Andes, has been called the "miracle grain" due to its nutritional properties.
We've seen several articles talking about the boom in Bolivia. The record demand has benefited many Bolivian farmers. It has also distressed their environment and traditional social life. Farmers are getting record prices for their quinoa crops, but they will often forgo eating this extremely nutritional food to better supplement their incomes. Bolivians are also finding it difficult to buy this nutritious grain. Living in poverty, especially extreme poverty, often forces these tough choices.
During my recent trip to Bolivia, I talked with our project coordinator, Lourdes, about quinoa projects in Bolivia. Lourdes mentioned that the area where we work has a similar climate to those areas that produce the best quinoa crops in Bolivia. We want to take advantage of that.
We started last year. Our office in Bolivia encouraged a village called Collana to improve their quinoa crops. Our staff coordinated with an institute in La Paz that is a leader in Quinoa research. We funded visits by their representatives to Collana to teach about better seeds that produce more grain, better crop management practices, how to use organic pesticides and how to market their products to purchasers. QBL helped them to purchase seeds and other supplies, and even introduced them to a buyer.
In September, we received a proposal to support the quinoa growers in a village called Janko Marca Sirpa. QBL funded a water project there a couple of years ago. They were exemplary in the cooperation and the project was a success. In September, we made the initial commitment to fund this project.
We made this commitment with the support of a generous donor. She wants to support rural Bolivian farmers as they seek to produce more quinoa. We have set aside a fund of $10,000 to encourage quinoa production.
Our staff is working with these villagers to improve their crops and income, but in a way that is sensitive to the needs of their family and the environment. We decided that each farmer and their family should learn how important this crop is to their family's nutrition. They shouldn't give up eating this nutritious grain. And while we can't provide all the Bolivians with access to nutritious quinoa, this is one way that we can provide a little more supply to the local market.
We would like to expand this fund. An additional $6000 will allow us to benefit all 36 families in Janko Marca Sirpa. Beyond Janko Marca Sirpa, QBL has installed about 20 water projects in this area. Water systems do a lot of good, but these families still need a good income source to get out of poverty. We're hopeful that, through your donations, quinoa can provide one part of that solution.
Please donate to QBL to support our continued work with quinoa.