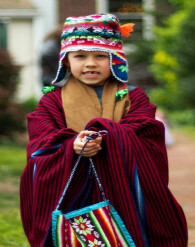 PK/K students from West Chester Friends School traveled to Bolivia!
Bienvenidos a Bolivia!
Students of T. Annmarie's PK/K classroom at West Chester Friends School (in West Chester PA) traveled to Bolivia!
"During this unit we experienced life in the Andes Mountains because of the Quaker Bolivia Link and Teacher John Scardina. We were able to try on a special gift of T. John's, a wool sarape, and later made their own sarapes. Like the people in the mountains, we made clay bowls, learned about weaving, and discovered interesting facts about llamas. We talked about QBL and their amazing goal of bringing clean water to the people in the Andean villages!"
The children were fascinated to learn how the QBL is teaching these native people to build greenhouses, grow important vegetables, and develop a healthy environment to raise their children. At the end of this unit the class and teachers had an amazing celebration as they welcomed the school and parents to La Fiesta de Bolivia. Here the children shared their knowledge of this beautiful country. We even raised $35.69 for QBL!