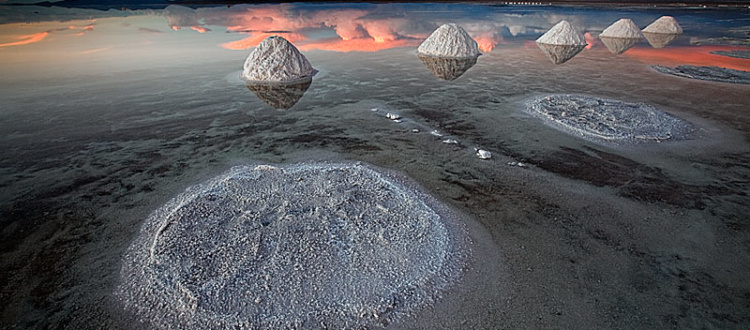 By Gladys Dunlop
Although Ed and I are new to the QBL board this year, our interest in Bolivia goes back more than a decade.  In 2005, our daughter was a senior at Westtown School and spent three weeks in La Paz teaching English in a Quaker school for her senior project.  And later, as a nursing student at Drexel University, she accompanied a group of medical faculty members as their translator on a trip to Cochabamba.  Ed and I finally got to see Bolivia for ourselves in 2012. That September, our daughter was our tour guide thru Peru, Bolivia, and Chile.  In Bolivia, we visited La Paz, took an overnight bus to Uyuni, and spent 3 days touring the Uyuni Salar in a Land Rover, staying in unheated salt hotels.
In La Paz, we happened upon both the wedding of the Vice President of Bolivia and a miners' strike.  There was a huge crowd at the Basilica de San Francisco, glorious singing, and many dozens of white balloons at the wedding.  Thousands of indigenous miners marched thru the streets and blocked intersections.  These two events exemplify the extreme income inequality in Bolivia.
On the salar tour, in addition to the salt flats, we saw many beautiful lagunas, pink flamingos, a gently active volcano, fumaroles, and gloriously dark night skies.  Bolivia is both a beautiful and rugged country.  The drivers on these tours work incredibly hard.  In addition to driving all day, they prepare all the food and also have to repair flat tires and bent rims, sometimes working until well after dark.
Recently, I've been thinking a lot about how thoughtlessly most of us in the US use water.  We let the water run when we brush our teeth, we take long, hot showers more for comfort than for cleanliness, we fill swimming pools, and water sidewalks and streets along with our lawns.  The indigenous people of Bolivia do not have this luxury.  And now even La Paz is facing a water emergency due to the worst drought in 25 years.  QBL's help with water projects is now more important than ever.