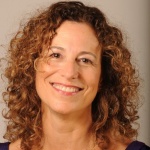 Lucille Rivin is Director of Curriculum Design at The Leadership Program, as well as an international acting teacher and coach, and a lifetime member of the Actors Studio. She has 30 years experience in acting, writing, directing, and youth development.
At The Leadership Program, under Lucille's management, the company's Violence Prevention (VPP) program achieved model program status with the Office of Juvenile Justice and Delinquency Prevention and SAMHSA's NREPP, national evidence-based assessors.  Lucille then oversaw the expansion of the VPP program to comprise programs in arts, character education, diversity, organizational and study skills, bullying prevention, and more.
Lucille has designed and facilitated professional development workshops at national conferences on such topics as Gender Bias, Girl Bullying, Family Engagement, Character in the Classroom, Incorporating Learning Standards into Arts Activities, and Developing Leadership in Early Childhood. She has provided training for the staff of Soar, Ireland in acting techniques to use in their work with at-risk youth, and has led workshops for parents of inner city youth on themes ranging from job search to coping with change.
A member of the QBL board since 2013, Lucille sits on the Project Committee.