Sometimes it is difficult to get a good sense of our projects without knowing where they are located. We hope that this map will give you a better idea about the distances and terrain involved in our work.
We hope to update this page with more detailed maps that include information and pictures about specific projects. Check back soon! For now, please check out our 2010 projects.
2010 Projects
Here is a map of the projects funded by both the US and the UK in 2010. Alternatively, you can view the original interactive Google Maps version.
Carabuco
Peñas
Jesus de Machaca
Coro Coro
-Pachacuti Bean Project
-Huancuyo Greenhouses
-Quotia Camelids
-Hucuri Milluni Irrigation
-Condo Chejwaya Water
-Calla Arriba Irrigation
-Tupaltupa Chickens
-Sora Lupirana Water
-Tiquipa Chickens
-Condoroca Water
-Quilloma Water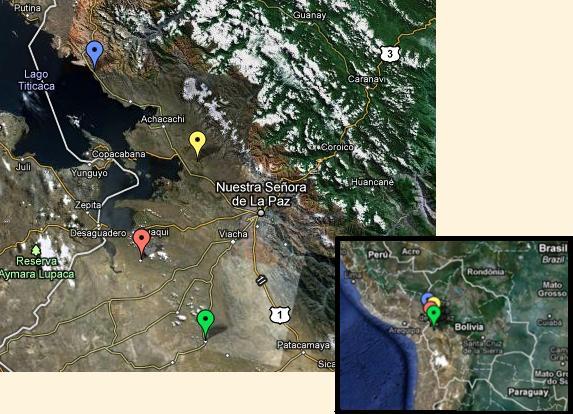 Share